EVENTS
Uplifted You and Intuition
Sunday, November 25, 2018 from 11:00am to 1:30pm
QubeCore Sports & Rehab (#110-126 15th Street East, North Vancouver)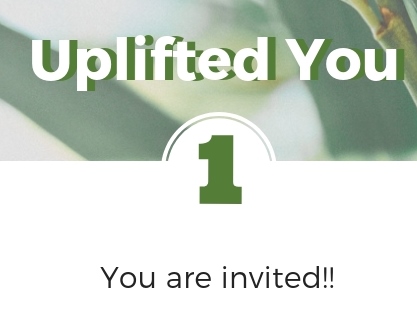 Uplifted You is a talk series that educates our community on various topics ranging from mental and physical to spiritual health.
We are creatures of habit and our habits exemplify our lifestyle. We all take care of our bodies by having a shower and washing away the physical dirt, but how many of us spend each day washing the emotional and spiritual dirt from our bodies?
Our first Uplifted You Series presents three amazing speakers that link together mindset, nutrition, and intuition in a manner that allows people to realize their greatest potential in life.
Lisa will be exploring intuition in our everyday life, Jody will be exploring mindset, and Nadya will be talking about nutrition.
You are invited to take part in our first event from Uplifted You Series on November 25, 2018 with a panel of three speakers that will discuss topics ranging from managing stress, learning the power of intuition, and how to break nasty habits that aren't serving you a purpose anymore.
Come join us for our event full of tips, knowledge, and action steps. So bring your pen and paper to take notes and be prepared for an interactive session with questions you may have for our speakers following the talks.

\
---

\
Speaker's bios:
Lisa Matthews weaves together healing for your physical, emotional, and spiritual health, recognizing the wholeness that is found when we treat all our parts together. Lisa is a Biodynamic Craniosacral Therapist and a Registered Nurse, who also works with Flower Essences and guided meditation. Her wide background enables her to work softly yet powerfully with old traumas, injuries, and wounds so that you can transform these into gifts and healing. By reconnecting to your inner wisdom, Lisa supports you in finding your own unique healing to support your soul's growth and to live a beautiful life.
Jody Kennet started her career in elevating human performance with studying Kinesiology and Psychology at Simon Fraser University. This launched her into a 20 year career in physical performance as a personal trainer. More recently, she has expanded her expertise beyond the body into the brain studying the neuroscience of confidence, communication, and leadership. She is a certified C-IQ coach, a Confidence coach with the American Confidence Institute, and a GAIA Leadership coach.
Nadya Pecherskaya is a nutritionist and a passionate wellness entrepreneur. She teaches fundamentals of nutrition at Institute of Holistic Nutrition and runs a community called Entrepreneurs in Health and Fitness Vancouver. But most of her time goes towards building her brand of CBD oil which she created to inspire busy female professionals to take care of themselves and make themselves a priority.

\
Organizer's bios:
Jens Kieling Having worked over 10 years as a personal, small group, and team trainer, Jens Kieling has been able to formulate, research, and experiment his own program design, quality of exercise implementation and execution. He has also worked with a wide variety of clients from youngsters, professional, adult, to seniors and has a great passion for fitness in each of those areas.The culmination of all his educational, athletic, cultural, and personal training experiences have evolved into a powerful art. It is the powerful art of getting results out of each and every client. Jens has developed a very professional, sharp and keen eye for quality of body stability and movement.He is an expert in picking out all the deficiencies related to stability and movement of the human body. It is in recognizing these minute and tiny details that we are able to correct those areas through consistent training programs. By working those deficiencies, you greatly reduce the risk of injury but also significantly improve the quality of movement. Quality of biomechanical movement relates to performance in sport. Poor biomechanical stability/movement equals poor performance in sport. Excellent biomechanical stability/movement equals outstanding performance in sport.
Hedi Shah is a former urbanist, who turned her passion for holistic health and fitness into a business, called JUMP (JUMP = Joy, Upliftment, Mindfulness & Performance).She is an ACE certified personal trainer and she works with clients locally and online. Her mission is to uplift people who want to overcome their perceived limits with exercise through movement and mindfulness, so they can experience a greater joy and performance in their lives. Her higher purpose in life is to expand JUMP into a holistic health and fitness center that will offer her community a safe place to deal with health challenges, mental & physical discomfort as well as body image issues. She is committed to help people using holistic nutrition, strength and conditioning training as well as alternative medicine to accelerate transition to a happier and healthier lifestyle.