EVENTS
Healing Herbs for Highly Sensitive People (Now ONLINE)
Thursday, March 26th from 6:30pm to 8:00pm
ONLINE via Zoom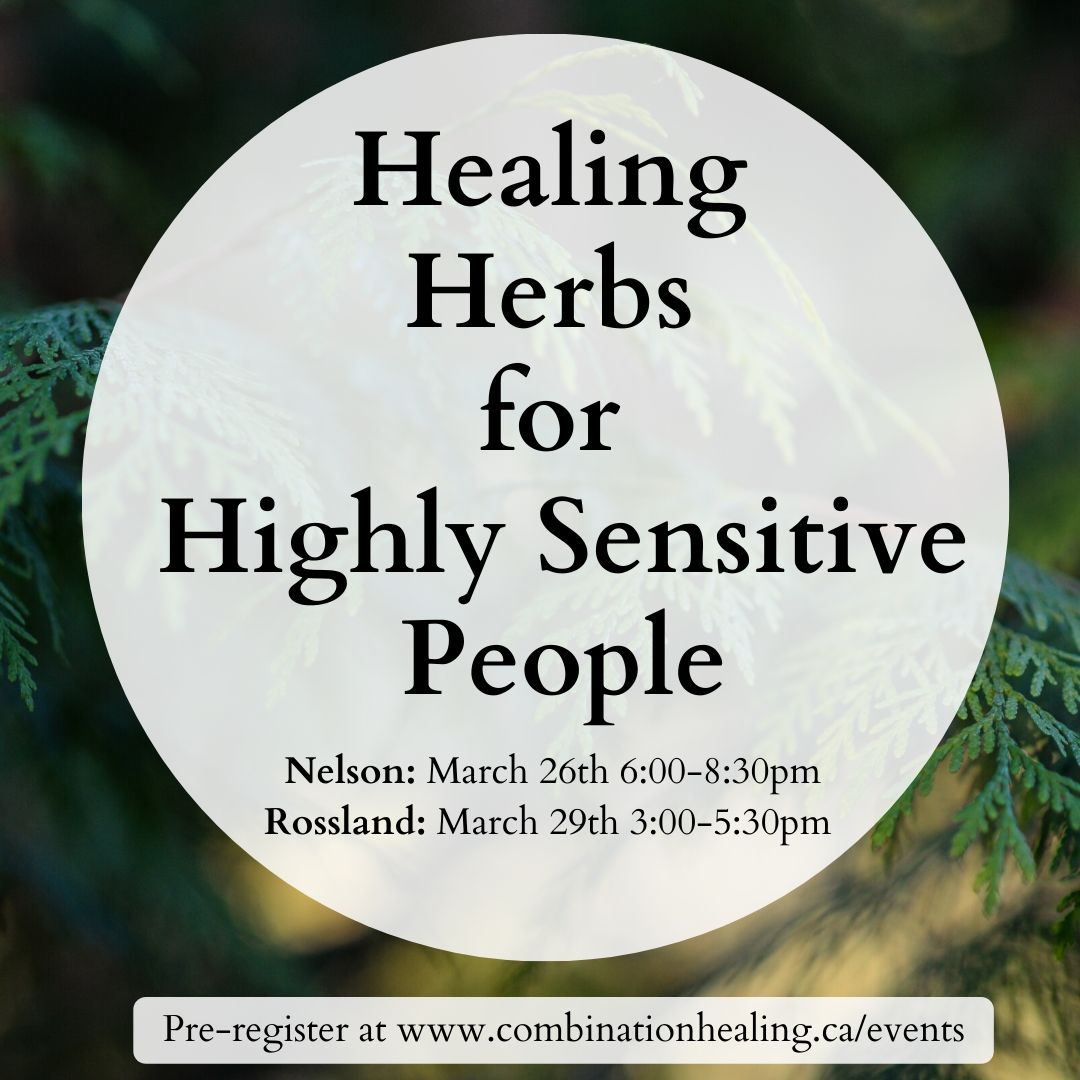 Update: Due to the current safety precautions, Marie and I have shifted this event to being ONLINE! The benefit of this is that even if you don't live in Rossland or Nelson, you can still learn more about herbal rememdies & self-calming practices to soothe your nervous system…especially important at this time!
We've also shifted the cost to be "pay what you can" instead of having a set fee.
Marie and I are so looking to support you by sharing tools, practices, and herbal knowledge which is very relevant for this moment in time.

\
Join Marie Zak, Clinical Herbalist, and Lisa Matthews, Craniosacral Therapist & HSP Coach in this empowering and calming workshop.
Have you ever been told you were "too sensitive?"
Do you struggle with loud noises, bright lights, and crowded places…and often are left feeling overwhelmed?
Or do you feel like you really need your alone time to recharge, especially out in nature?
If you answered yes to any of these questions, you may well be a [Highly Sensitive Person] (https://www.instagram.com/p/B4fxCx3Bnw4/) (an HSP for short). This is a wonderful trait and a beautiful gift, though it can often feel overwhelming in our loud and busy world.
We invite you to join us for an experiential workshop where you'll learn about herbal remedies, nervous system reset tools, and energetic practices to thrive in your life as a Highly Sensitive Person.
Pre-register to claim your spot [right here] (https://www.eventbrite.ca/e/healing-herbs-for-highly-sensitive-people-tickets-95948026129?aff=ebdssbdestsearch)!

\
In this workshop we'll be:
Learning about herbal teas and tinctures (these can later be mailed to you if you'd like!)

Learning more about what's happening in your physical and energetic body as a Highly Sensitive Person

Practicing self-calming tools that you can use in everyday life to soothe your nervous system
You'll also receive a detailed handout that you can use as a resource for the herbal remedies as well as the practices we'll be sharing.

\
Workshop Details:
Thursday, March 26th from 6:30pm to 8:00pm
This event has been shifted to ONLINE via Zoom.
There is no set cost, pay what you can or just register if you cannot pay!
You can claim your spot [right here] (https://www.eventbrite.ca/e/healing-herbs-for-highly-sensitive-people-tickets-95948026129?aff=ebdssbdestsearch)

\
About Marie Zak
Marie is a lover of the wild natural world and is dedicated to supporting her community with plant medicines. She completed her clinical herbal medicine training through Pacific Rim College, and is a Registered Herbal Therapist with the Canadian Herbal Association of BC (CHA of BC).
Marie authentically enjoys exploring people: who they are, what they need, and how best to support their experience. She works with her patient's emerging patterns to play matchmaker between people and plants. Her practice is informed by somatic principles; she works with the link between mind and body to deepen her patient's capacity for healing. She is honored to provide a safe space for patients to explore themselves and connect with nature's medicine.
Read more about Marie's offerings right here: https://www.marieelizabethherbals.com/

\
About Lisa Matthews
Lisa Matthews supports Highly Sensitive People who feel overwhelmed in their everyday life to nourish their nervous system & soothe their spirit.
Lisa is a Registered Craniosacral Therapist with a background in nursing and she is the owner of Combination Healing. She makes custom blends of Handcrafted Flower Essences (including the Bach Flower Remedies) for soul and psyche wellness. Lisa weaves together healing for your physical, emotional, and spiritual health, recognizing the wholeness that is found when we treat all parts of ourselves together.
Read more about Lisa's offerings right here: https://combinationhealing.ca/