EVENTS
Visioning the New Year: Amethyst Crystal Class
Saturday, January 8, 2022 from 3:30pm to 6:00pm
In-Person Gathering (Rossland, BC)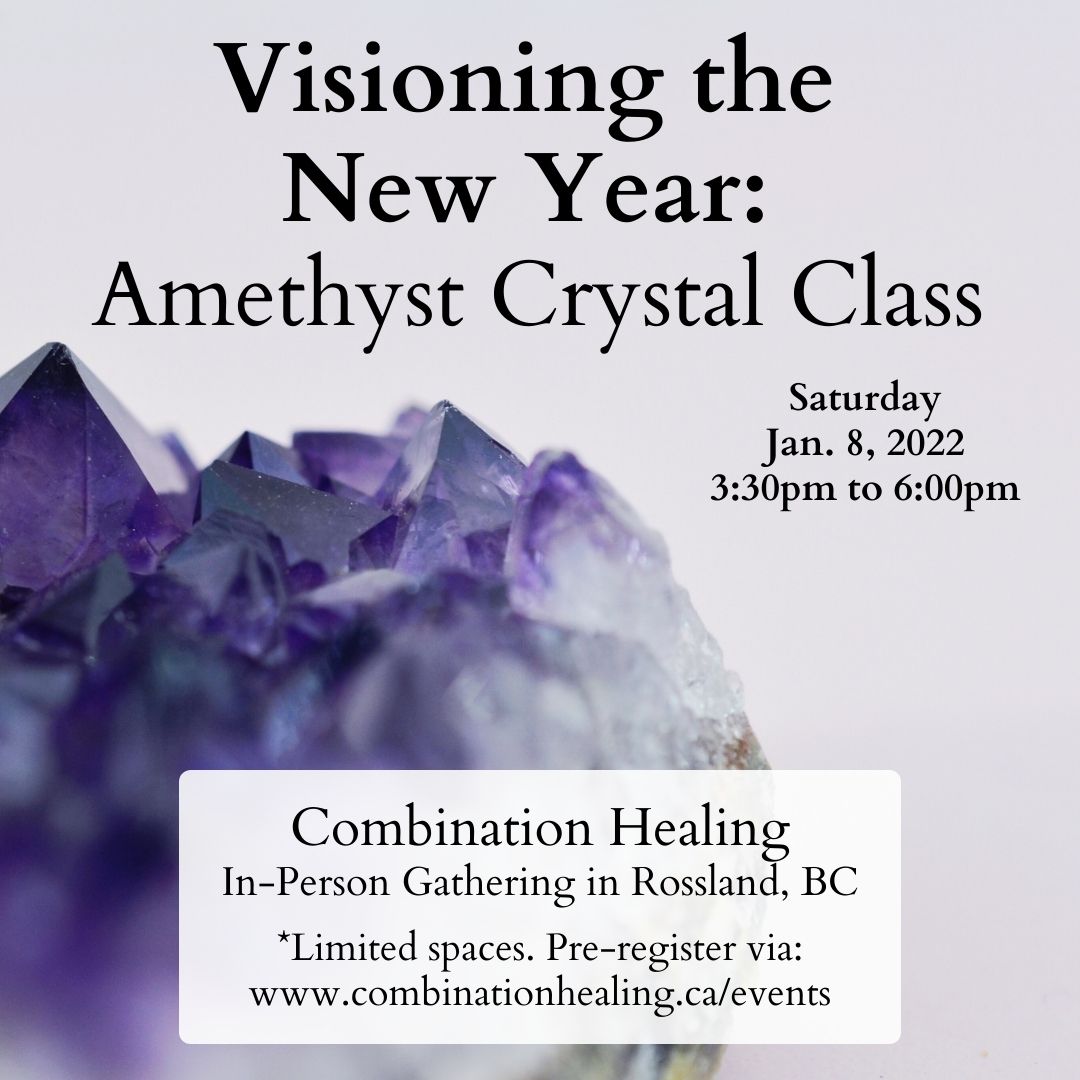 Join us for a nourishing afternoon as we deepen into the richness of connection and tune into the cycles of nature as we begin this new year.
We'll start with a soothing meditation and a sharing circle before settling into deeper work.
This gathering will be part Circle, part Crystal Class. We'll be spending time learning about Amethyst (including how to clear and care for crystals), as well as doing a guided meditation using this crystal. You'll also be bringing a small Amethyst hoem to keep!
Who is this Circle for?
Any person who wants to set intentions for the coming year in a conscious way.

Those who want to learn more about crystals and using Amethyst for visioning.

Especially for those that are empathic, intuitive, and Highly Sensitive People.
If you resonate with the quote "We are spiritual beings having a human experience"(by Pierre Teilhard de Chardin) and are looking for connection and community, then this gathering is for you :)
Details & Registration
Saturday, January 8, 2022 from 3:30pm to 6:00pm
Combination Healing (1771 Nevada Street, Rossland)
Your investment for this circle is $30.00 CAD and you'll receive a small Amethyst to take home with you.
Spaces are limited to 7 people and pre-registration is needed.
Please have your vaccine passport and ID ready at check-in. Bring a journal and pen to circle, along with a water bottle or tea if you would like one.
About your Circle Space Holder:
Lisa Matthews supports Highly Sensitive People who are building a spacious, calm, and intuitively-led life.
She's a Registered Craniosacral Therapist and Flower Essence Practitioner with a background as a Registered Nurse. Lisa is the host of the Highly Sensitive Soul Podcast and owner of Combination Healing in Rossland, BC.